本サイト内からご購入で日本全国送料無料・機器1年保証・安心の日本語サポート​​
本サイト内からご購入で日本全国送料無料
機器1年保証・安心の日本語サポート​​
A room runner that can be folded in half WalkingPad R2 First appearance in Japan.
The only treadmill that can be folded in half.
The first Japanese-speaking app in the WalkingPad R series.
Sophisticated and stylish sports design.
Make you more comfortable.
Get it. A future treadmill.
※ご注意ください!※
近頃、他社サイトなどにおいて、値下げを行った
悪質な弊社商品の類似品が出回っています。
(日本語未対応、保証がないなどのご報告があります。)
それらのサイトでご購入されました類似品は、
弊社取扱商品ではありませんのでご注意ください。
​弊社販売価格以下で販売されている商品は
弊社の保証サポートを受けることができません。
保証サービスの適用に関しまして、弊社自社サイトおよび
正規販売店様よりご購入されましたお客様に限ります。
-What is "Walking Pad R2"? -
"Walking Pad" is said to be foldable in half
Because of its compactness and stylish appearance
As "products that overturned the common sense of the treadmill."
It's getting a lot of attention all over the world
A futuristic compact treadmill.
This time, the latest model that pursues more design and ease of use
"Walking Pad R2" first landed in Japan earlier than anywhere else in the world.
Crowdfunding site in late May
It will be sold in advance at "makuake".
2021年5月からmakuakeにて行った先行販売では、
1か月で約2130万円もの応援購入をいただきました。
まさに大反響のコンパクトルームランナーです。
-Features of "Walking Pad R2"-
Only 7 cm thick * .
Compact and stylish. A futuristic treadmill.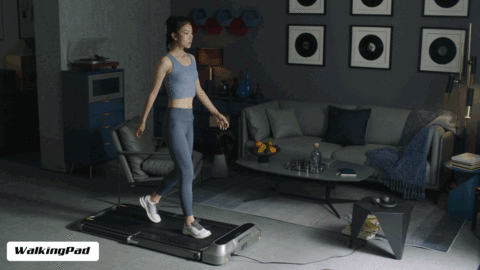 The thickness of the running surface is only 7 cm.
Quietness is achieved by using a high-level motor.
* Refers to the thickness of the running surface.
Reminiscent of a sports model of a luxury car
An unprecedented sports design.
To make you feel better when you run
Adopted a sophisticated design.
Fold in half.
Can be easily folded and stored upright. With casters, it is safe to move.
No tools required for folding. Anyone can easily fold it.
Because it can be stored upright
It can also be stored in a small gap.
The design when folded
Does not get in the way as an interior
For a design that blends in with nature.
Since there is a roller at the bottom when moving,
You can easily carry it by yourself.
本サイト内からご購入で日本全国送料無料
機器1年保証・安心の日本語サポート​​
The maximum running time is an amazing 2 hours. Wide range of speed adjustments.
According to your favorite style.
Fine speed adjustment is possible in 0.5km / h increments from 0.5km / h to 10km / h.
Continuous running time is even among treadmills
OK up to the longest level of 2 hours.
You can walk slowly,
You can run well.
You can drive flexibly according to your favorite style.
With an automatic driving mode, you can adjust the speed at your feet.
You can increase or decrease the speed without operating the remote control.
手すりを倒して「ウォークスタイル」
手すりを立てて「ランスタイル」
WalkingPad R2には手すりがついており、
手すりを立てることでランスタイル(上限速度10km)、
手すりを下すとウォークスタイル(上限速度6km)ができます。
速度が上がりすぎたが故の転倒防止にも配慮しております。
てすりには開閉式のスマホスタンドが付属。
動画を見ながら、音楽を聴きながら
ウォーキング、ランニングをすることができます。
The first * Japanese app in the series.
Detailed settings are possible by linking with the application. Daily health management is clear at a glance.
* We are developing the first Japanese-compatible app for the WalkingPad R series.
By linking with the app, daily health management becomes clearer.
It is also equipped with an exercise program
You can also check the settings of the main unit in detail.
It can also be linked to the "Healthcare" app installed in IOS devices such as iPhone at the same time.
* The app is compatible with IOS and Android.
* App screenshots will be reported on LINE as soon as they are completed.
Let's get it. A future treadmill.
Scheduled to be sold in advance at makuake in May.
本サイト内からご購入で日本全国送料無料
機器1年保証・安心の日本語サポート​​